Why Use A Roof Coating System?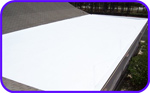 They Can Save You Money
Roof coatings have come a long way over the years. Today's roof coating systems will last for many years when properly installed.  In most case's we can go over your existing roof, saving you the money on the cost of removing the old roof and the dump cost of discarding the old roofing material.  You also save by reducing you energy cost.
Consider The Benefits of A Roof Coating System
  Reduce energy costs by reflecting the sun's heat
  Cost less than a roof replacement
  Great for both residential and commercial usage
  Can be applied over many existing roof surfaces
  A great long term solution for low slope and flat roofs
  Seals around roof penetrations such as plumbing stacks
  Includes Manufacturer's Warranty
When the time comes to replace that low slope or flat roof. Ask us about a roof coating system. We should be able to save you money and give you a roof that will last for years.  Roof coating are liquid applied and fully adhered. When applied properly the end result is a monolithic rubber-like protective shield that will stand up to the elements for years. The best part about a good roof coating system is you can recoat after, lets just say 10 years and coat again in another 10 years and so on. The cost of recoating is less then the original coating.  Add it up and a roof coating system has many benefits  making them one of the best systems on the market.  To see if a coating system is right for you just give us a call. 352 754-8600