RESIDENTIAL & COMMERCIAL ROOF
REPAIRS & INSTALLATIONS DONE RIGHT
When it comes to replacing your roof, you really don't want to take chances, and should only hire a licensed and experienced roofing contractor for all your roofing needs.
Call JK Johns Roofing & Sheet Metal, Inc. today or click the button below to request your FREE quotation!
The Tile Roof
Durable And Long Lasting
Once limited mostly to the southwest United States, tile roofing is now becoming more popular in other parts of the country for its many benefits over asphalt shingles. From the tile underlayment to tile roof leak prevention to the roof tile enjoying a far greater lifespan, more people are looking at tile roofing as a permanent solution for their homes.
The distinctive appearance of tile roofing is certainly one of the main attractions. Colorful and beautifully enhancing the appearance of the home, tile roofing can certainly bring out the best in your home's appearance. However, there are two considerations about roof tile that have held people back in the past, the initial installation cost and the weight of the tiles themselves that have previously led to reinforcing the roof in order to handle the additional weight.
Today however, tiles come in much lighter weights that do not require additional reinforcement of the roof, meaning that this is no longer a cost consideration for those who are considering using roof tile on their homes. As for the initial installation cost itself, there are other positive considerations to make before making your decision based entirely on your out of pocket expense
Durability – The best asphalt shingle roofs generally last 20 years, less in areas of the country where they are subject to hail damage, intense heat and cold. This means you are looking at replacing your roof two or three times during your life in the home and more frequently after severe storms, especially high winds which can tear out asphalt shingle roofs.
The tile roof is harder and far more resistant to environmental damage and its typical life is around 60 years or more. This means you only will have to install it once during your lifetime in the home, making for savings over the long run. Also, tile is also fireproof and carries a Class A rating.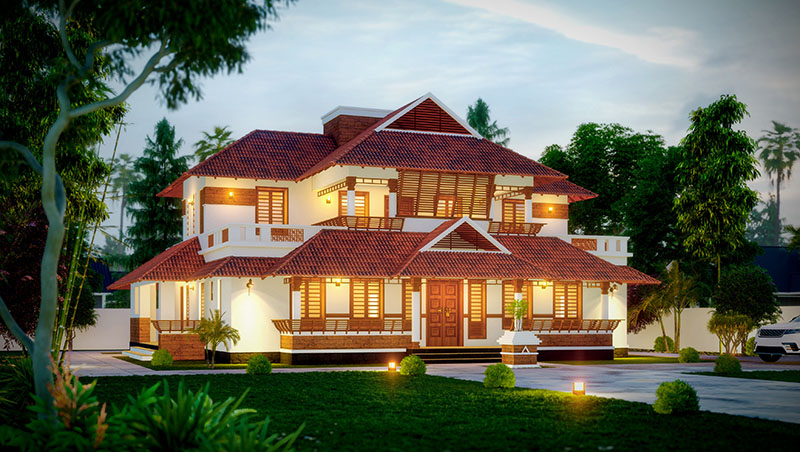 Insulation : The tile roof has very good insulating properties. The thickness and composition of the tile means that it traps more heat in the winter and keeps the cool in the summer.  This means saving money on your electric bill no matter what part of the country that you are in.
Flexibility : Tile roofs have the ability to carry adaptations for cloaked attic vents, hip starters, apexes, bird stops and many other features that make them perfect for adapting to what you want. The very nature of tile means that you can select from dozens of adaptations to make your home look more unique and stand out.
The high quality and durability of roof tile makes it the perfect choice for those who want to only have to install a roof once and enjoy it for a lifetime. From preventing tile roof leak which can damage the interior of your home to being fireproof to being far more resistant to what Mother Nature can throw at it, no wonder more people are selecting tile roofing.
NOTE:  Your home or business roof structure need to be build to hold the weight of a tile roof. Unless you know your roof will hold the weight you should not remove a shingle roof and go back with a tile roof
When it comes to roofing,
WE ARE A NAME THAT YOU CAN TRUST.
FAMILY OWNED AND OPERATED FOR OVER 35 YEARS.
What Is Under My Tile Roof?
The underlayment used under a tile roof can differ from 90LB granulated asphalt rolled roofing to what is called TU-Plus.  90LB granulated asphalt rolled roofing has been used for years and it is what you will find under most older tile roofs.
The TU-Plus is a homogeneous rubberized asphalt waterproofing underlayment fiberglass reinforced, with a high strength polyester fabric on the upper surface, designed specifically for use as a tile underlayment. TU PLUS is designed for use in new construction and re-roof application where tiles may be stacked on rooftops for extended periods of time.
TU PLUS may be exposed for up to 180 days. When you hear about drying in your roof for for a new Tile Roof this is the underlayment most used on new tile roof installs.
Type Of Underlayment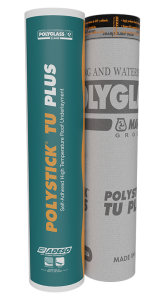 What Holds My Tile Roof On?
Roof tile are installed using nails or screws on some tile with most installed with Tile Bond.
Tile Bond is an adhesive that will hold roof tile down to the roof deck and is stays very strong in strong winds even in a hurricane.
It is Miami Dade county approved and has the Florida building code approval.
Roof Tile Adhesive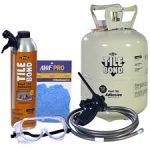 SEE BELOW FOR DETAILS ON TILE ROOF SYSTEM
BEL-AIR ROOF TILE OVERVIEW
Sometimes, the beauty is in the simplicity of the design. The Bel Air profile
is a flat, smooth tile that offers clean lines and versatility to use on a
variety of different architectural styles. Plus, it allows you to go heavier
on other exterior elements such as pavers, stonework and landscaping,
all of which will dramatically complement your Bel Air concrete tile roof.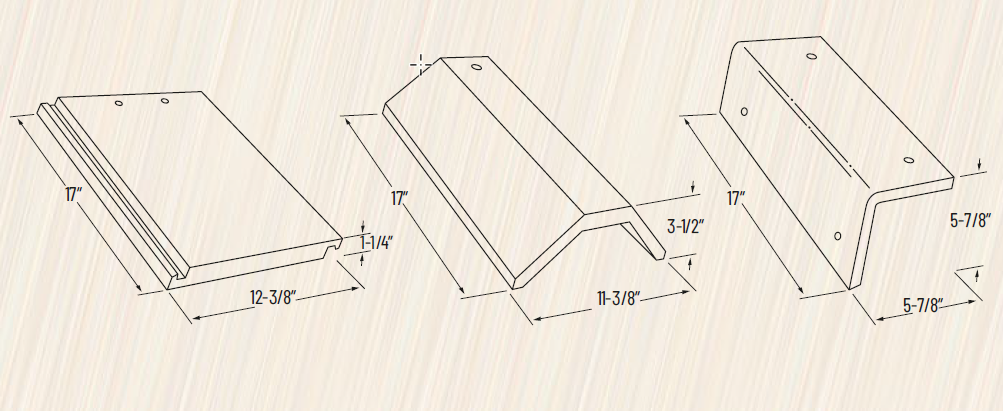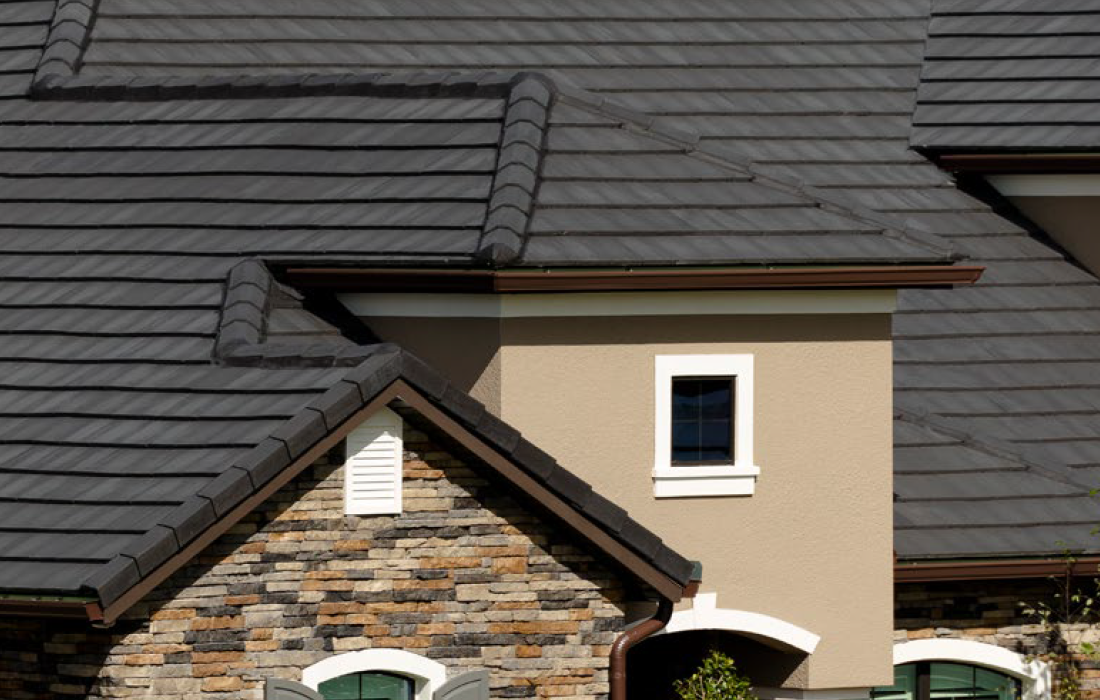 88.5 roof tiles per 100 sq ft – Approx 970 pounds
CAPISTRANO ROOF TILE SERIES
SEE BELOW FOR DETAILS ON THIS ROOF TILE SYSTEM
CAPISTRANO ROOF TILE OVERVIEW
A high S-profile tile, our Capistrano is semi-cylindrical and is the most traditionally recognized of all tile profiles. While you may think a Capistrano tile roof is suitable for only Spanish or Italian architecture, it actually offers stunning good looks that work well with any style, as it pairs nicely with stucco, stone or brick siding. It is used widely on residential, commercial, military and institutional buildings throughout the United States.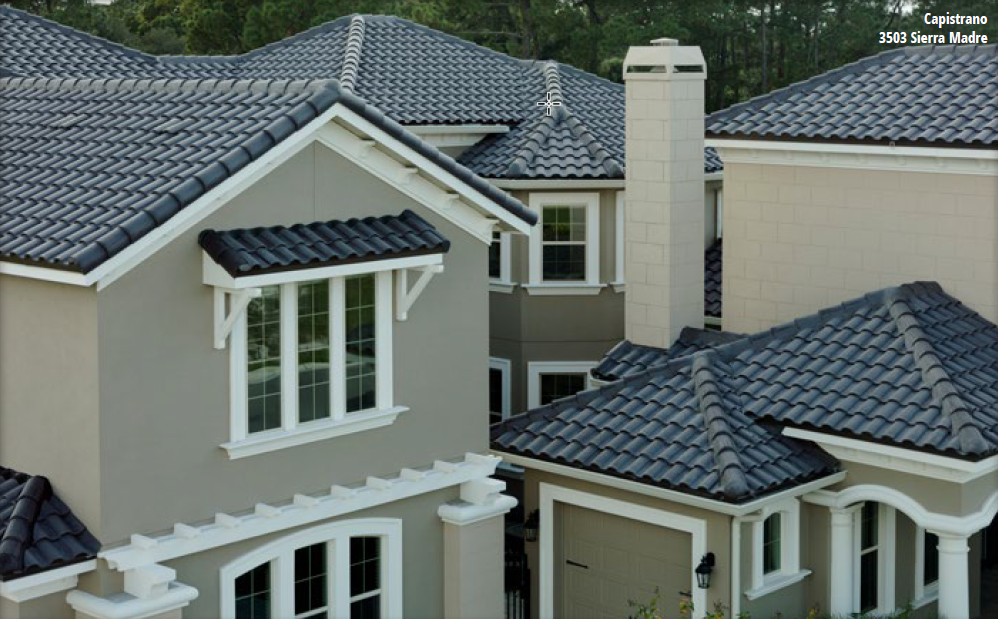 88.5 roof tiles per 100 sq ft – Approx 880 pounds
SEE BELOW FOR DETAILS ON THIS ROOF TILE SYSTEM
MALIBU ROOF TILE OVERVIEW
Malibu tile has gentle curves, which adds visual interest and striking effects, easily complementing modern architectural designs and large buildings. It's particularly effective on distinctive homes, apartments, hotels, places of worship and commercial structures. It's the best of both worlds, where Mediterranean meets Contemporary.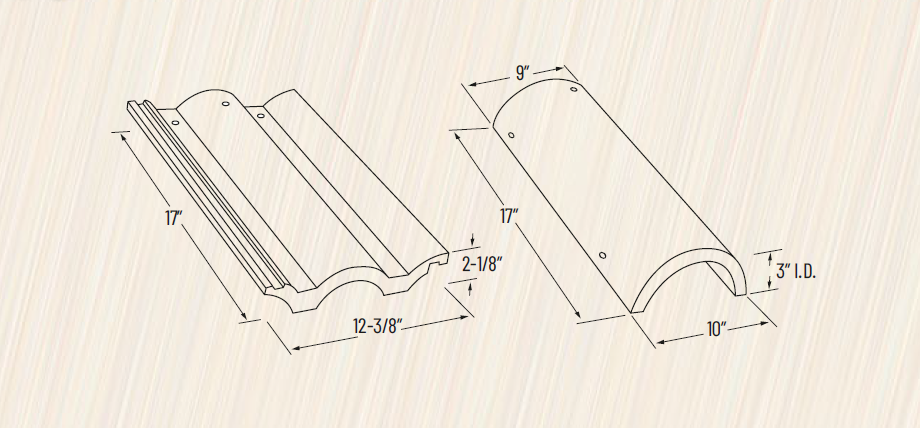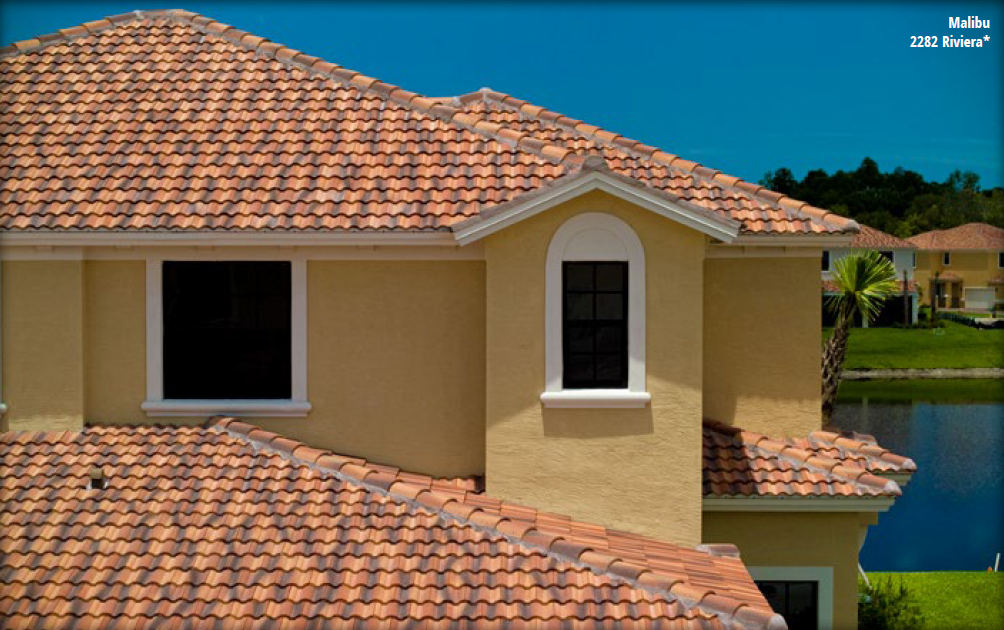 88 roof tiles per 100 sq ft – Approx 770 pounds
FREQUENTLY ASKED QUESTIONS
A new roof is a big investment and people always have a lot of questions before making any decisions, below are some of the more common ones…
Click on a box below and it will open for more information.
WHAT OUR CLIENTS HAVE TO SAY
It's official! Our customers love us….and we hope that you will grow to love us too!
Here's a small sample of what some of our customers have had to say…
A Really Great Job
They did everything they said they were going to do, at the exact price that they quoted us. The job was also completed on time and they cleaned up after themselves. Absolutely perfect and would certainly recommend them to others.
Very Pleased
The team was professional polite and did a great job when repairing some significant roof damage that we had. I would certainly do business with them again and highly recommend them to others.
Superb Service
They are always prompt, courteous, and have fair pricing. I would recommend these guys to anyone who is looking for a really good, honest roofing company
A Special Thanks
A Special Thanks to JK Johns Roofing for all the considerations and service to complete my reroofing installation in such a timely manener. It was a pleasure doing business with you. Sincerly Barry R.
just wanted to say thanks
I just wanted to say thanks for my great looking roof. You guys did a wonderful job with the damaged wood it looks like new again. Thanks Steve
Thank You so much
Thank You so much for fixing my roof. I am in Illinois. I did get here 3 days before my dad passed. You saved me a lot of worry about my roof. I will always recommend you. Sincerly Sharon L.
Thank you for a beautiful roof
Dear Ruby, John and Everyone Thanks you for a beautiful roof. My mom's house looks Great!! This is to let you know that I have let my friends in Timber Pines know to go see the house because we are so pleased. My neighbor was hired to watch the proceedings for me and he commented that you used an upgraded lining product under the shingles. I also wanted to let you know that the realtor was impressed as well. Thanks for a great job at a reasonable price. You can use me as a reference if you need one. Sincerely, Susan D.
Thanks for doing such a wonderful job
Joe and Crews Thanks for doing such a wonderful job, not only on the roof but working with the other installers and being accommodating with their scheduling snafus! I hope that the multiple favorable comments we have gotten from folks in our neighborhood will translate into more work for you! Do not hesitate to use us as a reference for anyone who asks. Glen and Lisa M.
Thank you so much for the beautiful work
Mr Johns and Co. Thank you so much for the beautiful work on repairing the leak in the roof. Be proud of your young men who came to the job. So polite so careful and very considerate. We sure need more like them. I'd recommend your company anyday. Thanks for your trust in me to pay you. Sincerely Bettie L.
Great experience!
Great experience! Our new tile roof is great. No problems with installation. Very professional. Would recommend without any reservations.. Mary Beth R.
LET'S TALK ABOUT YOUR ROOFING NEEDS!
If you are in need of a new roof or perhaps a roof repair, then we'd be more than happy to provide you with a FREE, no-obligation quotation.
WOULD YOU LIKE A ROOF INSPECTION?
How comfortable are you with the current state of your roof? When was the last time you had it inspected? We'd be happy to provide with a inspection to put your mind at ease.