A New Metal Roof Will Make Your Home
Beautiful And Protect Your House From Strong Winds.
There Are Many Benefits To A New Metal Roof
–> A metal roof will improve the appearance of your home.
–> Metal roofs are very durable and will protect your home.
–> Properly maintained they can last for over 50 years.
–> Metal roofing provides a wide array of color choices.
–> Metal roofs maintain their look and performance for years.
–> Metal roofing can be installed over most existing shingle roofs.
–> Your roof is the first line of defense against extreme weather conditions we have here in Florida. Make it a tough metal roof.
When It Was Time For My New Metal Roof
I Found Myself Asking Some Question
From The Desk Of John Johns
Hello my name is John. I am one of the owners of JK Johns Roofing and as you can imagine we get calls, all the time from customers wanting a new metal roof and for most of them it is their first time purchasing a new roof and they have questions.
I will cover 10 of the most asked questions and I will try to keep this short.
–> Does a shingle roof cost more than a metal roof?
Answer – Yes metal roofing cost more than shingles,  the cost varies with the type of metal roofing and if the metal can be installed over your existing shingles.
–> Can you install a new metal roof over my existing shingle roof?
Answer –  Yes most of the time we can install a metal roof over your existing shingle roof if there is not much rotten wood..  By going over your existing shingle you can save on the cost of removing the shingles, the cost of the underlayment along with the cost to install the underlayment. This helps offset the cost of the metal roofing.
–> Do I have to pull a permit or will you pull it for me?
Answer – We will take care of it, You will need to fill out the Notice Of Commencement and we take care of the rest.
–> What about these pipes sticking out of my roof, do I get new one's?
Answer – The pipes are plumping stacks and they will get new boots around the existing pipes. Other vents on a  roof can be for a dryer or kitchen vent.
–> Do you remove my old existing roof?
Answer – Yes your existing roof can be removed or we can install the new metal roof  over your existing shingle roof. It is up to you.
–> When do I need to give you money?
Answer – When the material is delivered we will invoice for half the contract amount and after final inspection we invoice for the balance.
–> What about the trash, do you remove the debris?
Answer – Yes we will have a dump trailer on site and clean up when we are finished.
–> Do you replace rotten or damaged wood?
Answer – Yes we will replace any damaged woof we come across, the amount of wood will be determined when we remove the existing roof.
–> What about a warranty, do my shingles come with a warranty?
Answer – Yes you will get a warranty from the manufacture for the shingles and a labor warranty from us.
–> Do I get new metal around the edge of my roof?
Answer – Yes the metal is called eaves drip and you can pick the color using our metal roofing page.
–> What is under my new metal roof?
Answer – The material under your metal roof is called the underlayment. We use a high temp peel & stick made for metal roofing.
What Are The Steps Needed
For Installing My New Metal Roof
STEP 1. Preparing Your Roof For Your New Metal Roof System
This is the start date, this will be a busy day.
Up until now it has been a little paper work and commutation. After your permit is in hand we set a start date. Depending on if we are instilling your new metal roof over your existing shingle roof or removing your existing shingle roof . The install process will be the same.  On this day you can expect to have trucks pulling up to your house as the crew arrives the material is delivered and a dump trailer is on site.
If we are removing your existing roof you can expect a lot of noise as the crew picks up their removal tools and start the hard job of removing the existing roof. If you stay home it will sound like you have 100 people up on your roof trying to get in as they rip up the shingles then pick and bang the old roofing nails, repair/replace and damage or rotten wood, then re-nail your plywood decking to bring it up to code and install the underlayment to make your roof deck water tight. The crew will load up some tools pack up a few things and be on their way home for a well deserved rest.
STEP 2. Installing Your New Metal Roof
Today is the day your new metal roof gets installed.
Out with the old and in with the new. Installing a metal roof will take longer than installing a shingle roof. Also some styles of metal roofing will take longer then others.  With that being said,  by the end of today your new roof will start to take shape.  Your new metal roof has been delivered and the crew is back for another day of making noise installing your new metal roof. Depending on the size and layout of your roof, the crew should get a lot of your metal roof installed. This includes the eave metal, and any valley metals. It has been a few days and your new metal roof is coming together just a little hip and ridge cap to install.  It is said that 40 percent of your homes curb appeal is the roof and you just took care of that. Nice, now that looks great and the value of your home just went up.
STEP 3. The Clean up & Inspection
Today is cleaning day.
After all that work of removing and installing your new metal roof it is time for the clean up and to call in for the final inspection.  Today we will pick up any material left over from your new roof install.  Walk your new roof just to make sure every thing is how it should be. On this day if it has not yet been removed the dump trailer will be out of there and it should start to like we were never there and your new roof just appeared. Now that we know your roof is finished it is time to call for the final inspection from the county.   This is always a good time for you the home owner and us the roofing contractor. Passing the final inspection lets you the home owner know your new roof was installed up to code and for us the roofing contractor it is another job well done.
I Just Love The Look Of A New Metal Roof
New Standing Seam Metal Roof On This Beautiful House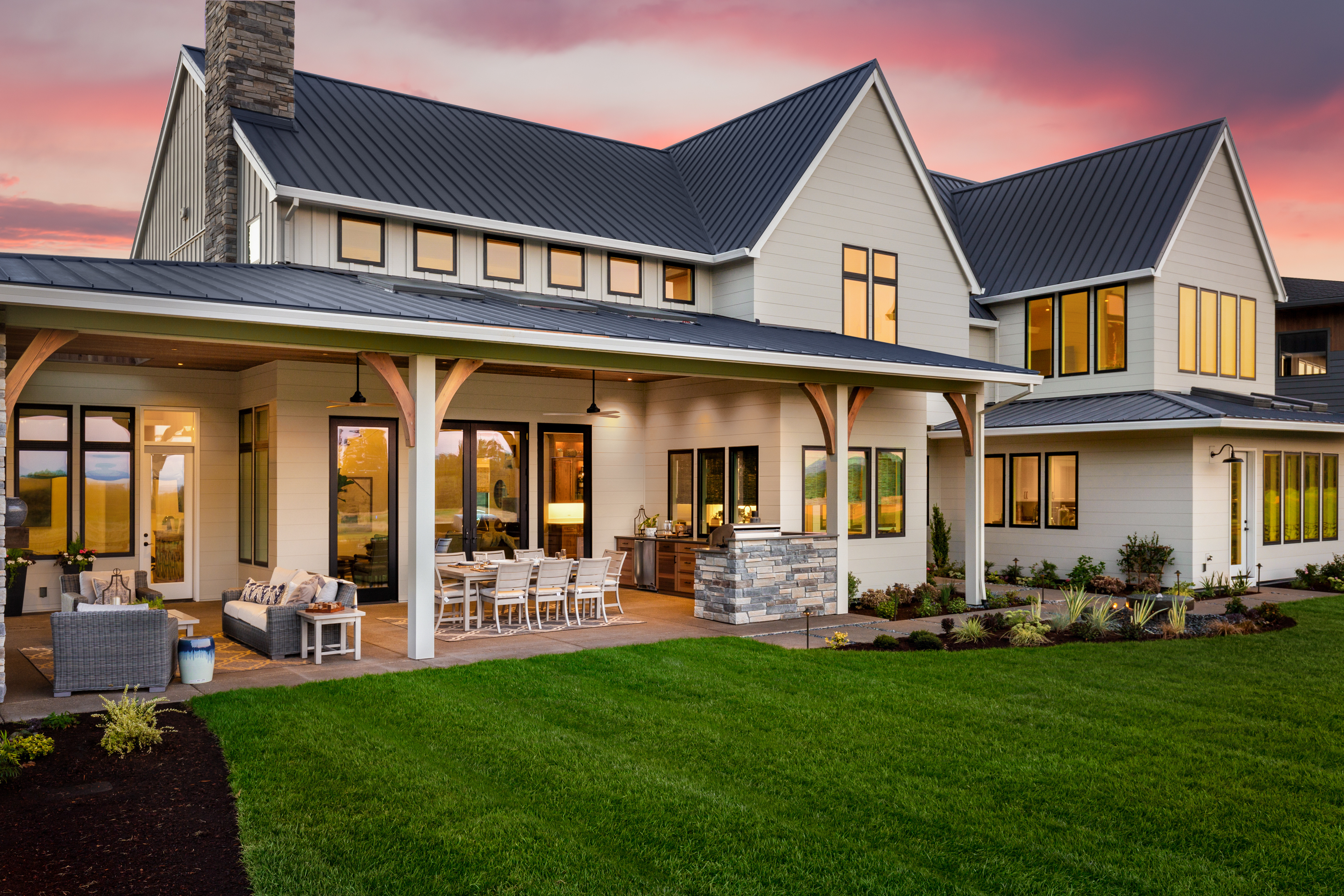 We know There Is A Lot Of Work Involved
When It Comes Time To Get A New Metal Roof
Not To Worry We Will Take Care Of Everything For You
As you know there is a ton of decisions to be made when getting a new metal roof. We are here to answer your questions and help you move forward with your new metal roof and if we agree to work together we will do all heavy lifting to make sure you have a new beautiful metal roof to protect your home from the extreme weather conditions here in Florida.
Here are some of the things we will do for you
–> Measure your roof and provide you with a free proposal.
–> Provide you with color samples for your new metal roof and trim metals.
–> File the paper work and pull the permit.
–> Contact suppliers and line up a start date.
–> Purchase materials and have them delivered.
–> Remove your existing roof, replace damage wood and install new underlayment as needed.
–> Install your new metal roof system  along with all roof accessories.
–> Clean up, just like we were never there.
–> Call for final inspection.
–> Provide you with warranty papers and roof condition report.
FREQUENTLY ASKED QUESTIONS
A new roof is a big investment and people always have a lot of questions before making any decisions, below are some of the more common ones…
Click on a box below and it will open for more information.
WHAT OUR CLIENTS HAVE TO SAY
It's official! Our customers love us….and we hope that you will grow to love us too!
Here's a small sample of what some of our customers have had to say…
A Really Great Job
They did everything they said they were going to do, at the exact price that they quoted us. The job was also completed on time and they cleaned up after themselves. Absolutely perfect and would certainly recommend them to others.
Very Pleased
The team was professional polite and did a great job when repairing some significant roof damage that we had. I would certainly do business with them again and highly recommend them to others.
Superb Service
They are always prompt, courteous, and have fair pricing. I would recommend these guys to anyone who is looking for a really good, honest roofing company
A Special Thanks
A Special Thanks to JK Johns Roofing for all the considerations and service to complete my reroofing installation in such a timely manener. It was a pleasure doing business with you. Sincerly Barry R.
just wanted to say thanks
I just wanted to say thanks for my great looking roof. You guys did a wonderful job with the damaged wood it looks like new again. Thanks Steve
Thank You so much
Thank You so much for fixing my roof. I am in Illinois. I did get here 3 days before my dad passed. You saved me a lot of worry about my roof. I will always recommend you. Sincerly Sharon L.
Thank you for a beautiful roof
Dear Ruby, John and Everyone Thanks you for a beautiful roof. My mom's house looks Great!! This is to let you know that I have let my friends in Timber Pines know to go see the house because we are so pleased. My neighbor was hired to watch the proceedings for me and he commented that you used an upgraded lining product under the shingles. I also wanted to let you know that the realtor was impressed as well. Thanks for a great job at a reasonable price. You can use me as a reference if you need one. Sincerely, Susan D.
Thanks for doing such a wonderful job
Joe and Crews Thanks for doing such a wonderful job, not only on the roof but working with the other installers and being accommodating with their scheduling snafus! I hope that the multiple favorable comments we have gotten from folks in our neighborhood will translate into more work for you! Do not hesitate to use us as a reference for anyone who asks. Glen and Lisa M.
Thank you so much for the beautiful work
Mr Johns and Co. Thank you so much for the beautiful work on repairing the leak in the roof. Be proud of your young men who came to the job. So polite so careful and very considerate. We sure need more like them. I'd recommend your company anyday. Thanks for your trust in me to pay you. Sincerely Bettie L.
Great experience!
Great experience! Our new tile roof is great. No problems with installation. Very professional. Would recommend without any reservations.. Mary Beth R.
LET'S TALK ABOUT YOUR ROOFING NEEDS!
If you are in need of a new roof or perhaps a roof repair, then we'd be more than happy to provide you with a FREE, no-obligation quotation.
WOULD YOU LIKE A ROOF INSPECTION?
How comfortable are you with the current state of your roof? When was the last time you had it inspected? We'd be happy to provide with a inspection to put your mind at ease.